DEKCASSETTE IDEAL
DEKCASSETTE IDEAL
DEKCASSETTE® IDEAL is the latest product in the DEKMETAL DEKCASSETTE® series.
The IDEAL cassette represents the result of several years of development and testing, with the experience of actual implementation.
It introduces a new type of lock, more spatial rigidity for the cassettes, and the option of producing individual pieces up to a length of 6 m while maintaining a wide range of possible material and colour combinations.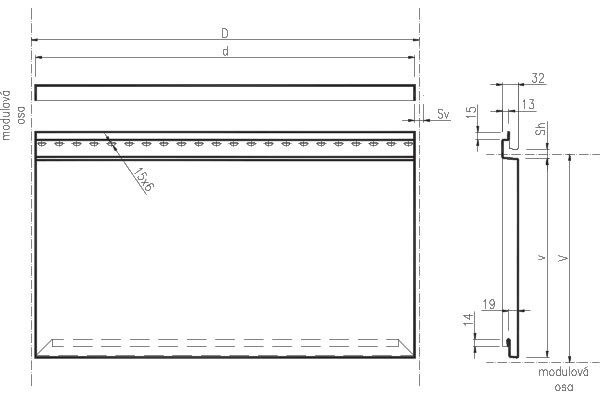 CASSETTE DIMENSIONS
(mm)
Composite length D
150–6 000
Composite height V
100–650 (800*)
Total length d
D + Sv
Total height v
V + Sh + 35
Depth
32
Horizontal joint Sh
5–35
Vertical joint Sv
5–50
Sheet thickness
0.75* / 1.00 / 1.20*
* Production of cassette height of 650-800 mm and implemented sheet thickness: 0.75 mm and 1.20 mm after consultation with the manufacturer.
DO YOU HAVE A QUESTION?
Fill out a short form, we will contact you.
Contact form
UNIQUE DESIGN WITH SMOOTH JOINTS
The joint of the IDEAL cassette is smooth without visible anchoring elements, and with an adjustable width for each individual joint.
VARIABILITY
The entire DEKCASSETTE product line, including the IDEAL cassette, provides a wide choice of materials, colours, and their combinations.
AN IDEAL LOCK
The new lock in IDEAL cassettes provides quick water drainage, more spatial rigidity, and an elegant appearance.